I just returned from a dream trip to Tokyo, traveling alone, allowing me the complete freedom to do what I've always wanted to do; spend my entire time in some of the many great record shops Tokyo has to offer, listening to music and taking pictures of a pastime I admire. Tokyo is renowned for being an audiophile's dream in both store and equipment terms, and I'm sure by the end of this you'll see why.
There were ~25 record shops/locations on my shortlist to visit. This Resident Advisor article was a good start for research along with some great venues too, along with this one on Discogs. Some general internet digging and a couple of hot tips from some of you also helped. I had been to Tokyo a couple of times before, but I never had the time to truly dig in, so a few stores had been on my 'must revisit' list for a few years. Now, it was time for a visit with nothing on the agenda other than "DITC".
I managed to get around to about 15 shops in total. One of them was no longer around and one was a new addition after stumbling across it by accident. Ten of them, I felt were worth capturing here for future reference. At the very bottom of this article you'll find the full list I amassed. I only really scraped the surface...
This series was originally published as a series of photos on Instagram (@astrangelyisolatedplace) and I will continue to add stores to it via the #ASIPRecordStores hashtag, as life and digging goes on.
Technique (Shibuya, Tokyo)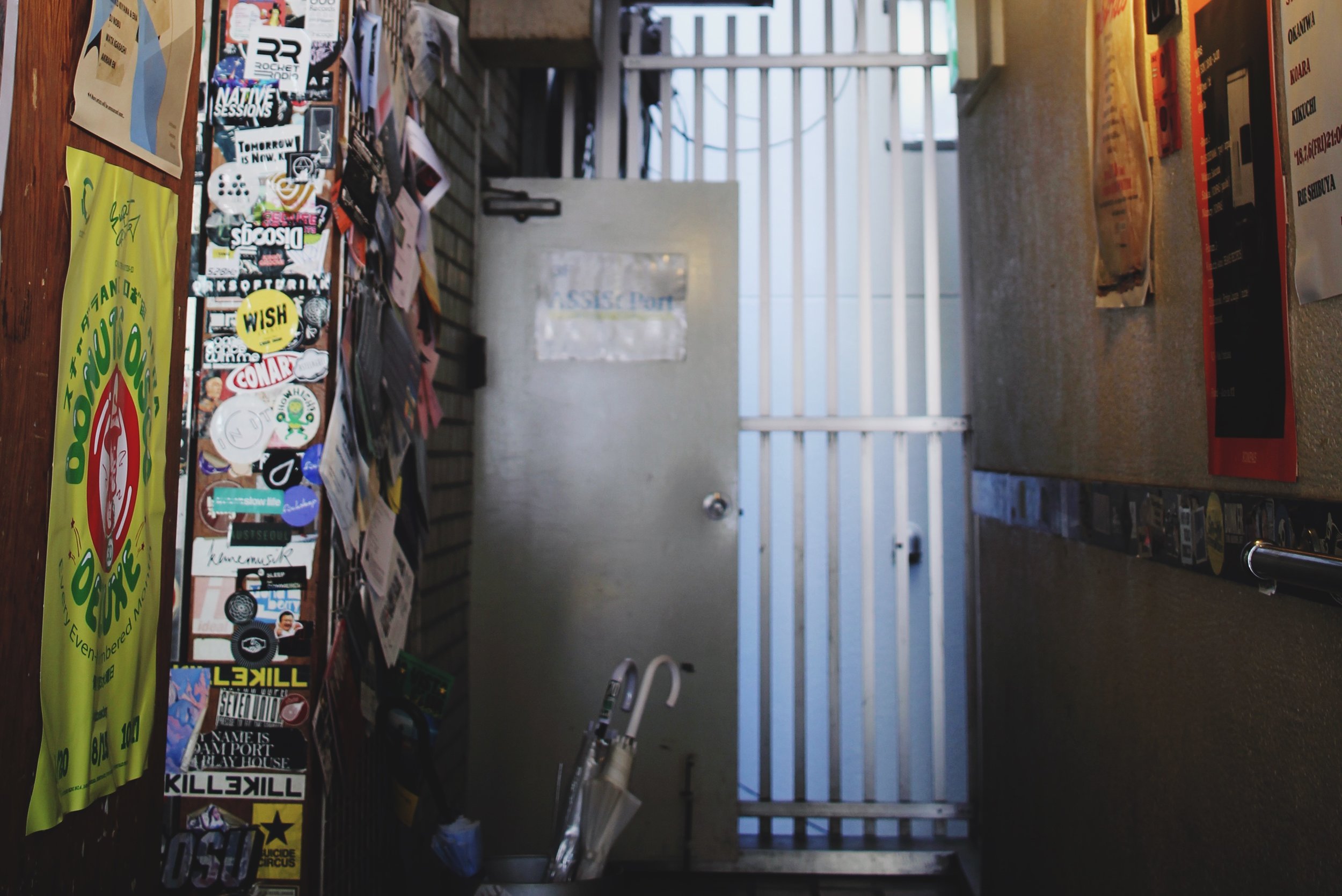 Technique is undoubtedly the best store in Tokyo for electronic DJ's. There's not much you can't find here if it has anything to do with the best of the deep and dark stuff. Technique stocks a bunch of the latest techno, local labels and an extensive used section - where I ultimately spent most of my time, as the staff on the day didn't speak much English, so I didn't want to waste my time asking him for some obscure Japanese bits.
I came for the techno, but walked away with a copy of Arovane's 'Tides' (still missing from my collection) and Pete Namlook's 'Definitive Ambient Collection'. They were also spinning Eternal Beams feat Laraaji whilst I was shopping, and as with most record store experiences, I had to pick up a copy to remind me of the time I spent browsing.
Average cost: $$$ (3/5)
Specialty: Techno, used and new.
http://www.technique.co.jp/
Big Love (Harajuku, Tokyo)
If you can find it, two floors up and set back into the Harajuku neighborhood, you'll think you just stumbled across someones living room. You wouldn't be wrong - it's the record collectors dream living room.
Records from the Big Love label, plenty of independent rock, pop and a decent electronic and ambient/experimental section (Northern Electronics on full albeit expensive show) plus a small bar serving up Japanese Craft Beers (IPA's, Ales etc) and a lovely selection of merch to rep the shop, if you can ever drag yourself away from this haven.
Pretty sure they do food too, but that tips plate made me worried about trying to do anything else other than buying music.
Average cost: $$$$
Specialty: Independent rock, pop and alternative with a good selection of ambient and electronic.
http://www.bigloverecords.jp/
Disc Shop Zero (Shimokitazawa, Tokyo)
20+years in existence, E-Jima san tells me he went to Bristol many years back and continued to make friends, falling in love with all kinds of bass music, from Dubstep to drum & bass.
This shop is hard to walk around but you only need your arms to dig through the many hundreds of records - often left in their promo boxes, sent from his UK friends. Signed albums adorn the walls from many of Bristol's biggest bass and dubstep musicians. And because people probably don't come here looking for electronica, I found some great stuff hidden amongst a neglected electronica section, including: a Metamatics 7", an Autechre ATP compilation, a Static Caravan picture disc and a classic ISAN album.
Average cost: $$$
Specialty: Bass, dubstep, jungle, electronic.
http://www.discshopzero.com/
Next Records (Shibuya, Tokyo)
Without a doubt the most pristine, meticulous, well curated used house section I've ever come across. 8x2ft of perfectly alphabetized pristine House records, with many first presses in perfect condition.
From the early days of Mr Fingers and Frankie Knuckles up until the prime-era of Strictly Rhythm and Masters at Work (the good years!) they have it all. Many are ordered per pressing or edition so you can walk out with 2/3 copies of the same record if you're after the originals plus other versions. This is the kind of place that spins a record whilst you're on the floor, and your eyes look up after hearing an early house sample you didn't even know existed as its own record. Learn "What's playing right now?" in Japanese before going here.
Average cost: $$$$
Specialty: Used Jazz, Hip-hop and House
http://www.nextrecordsjapan.net/
Lighthouse Records (Shibuya, Tokyo)
Overlooking the busy streets of Shibuya, Lighthouse is another DJ oriented shop similar to Technique, but focused more on House, Nu-Disco and all things Balearic. A rare and unusual gem to find in the busy streets of Tokyo, as soon as you step into the store it emits warmth, space and calm. Big speakers and a legit turntable setup, the space also sells some audiophile merch and headphones like Phonon.
I managed to find the classic drum'n bass remix of The Beloved's Sun Rising, by Tom Middleton, and Vol.3 of the Italian Dream House compilation (the first two volumes are bankers!) Lighthouse is also the perfect home for Japanese selector, Chee Simizu (video).
Average cost: $$
Specialty: Balearic house, Disco, Nu-Disco.
Face Records (Shibuya, Tokyo)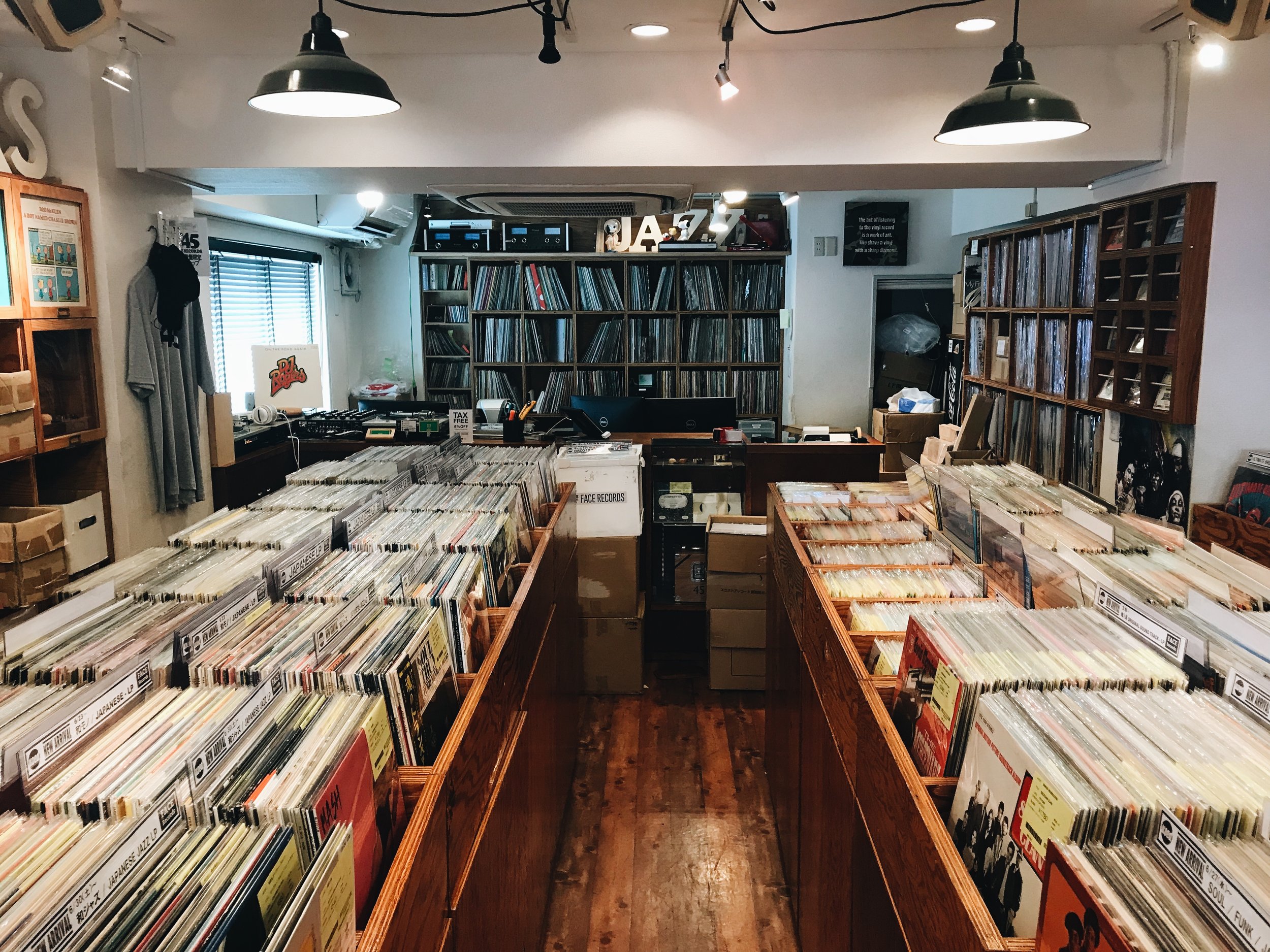 Another little gem in Shibuya across the street from Next Records, this shop has a bit of everything and apparently (although I seemed to have missed it) some brilliant Japanese ambient. I did however manage to score some cheap dub-techno classics from Arovane, Basic Channel and Monolake.
Average cost: $
Specialty: Techno, Hip-Hop, Jazz, Japanese Ambient.
http://www.facerecords.com/
Jet Set Records (Shimokitazawa, Tokyo)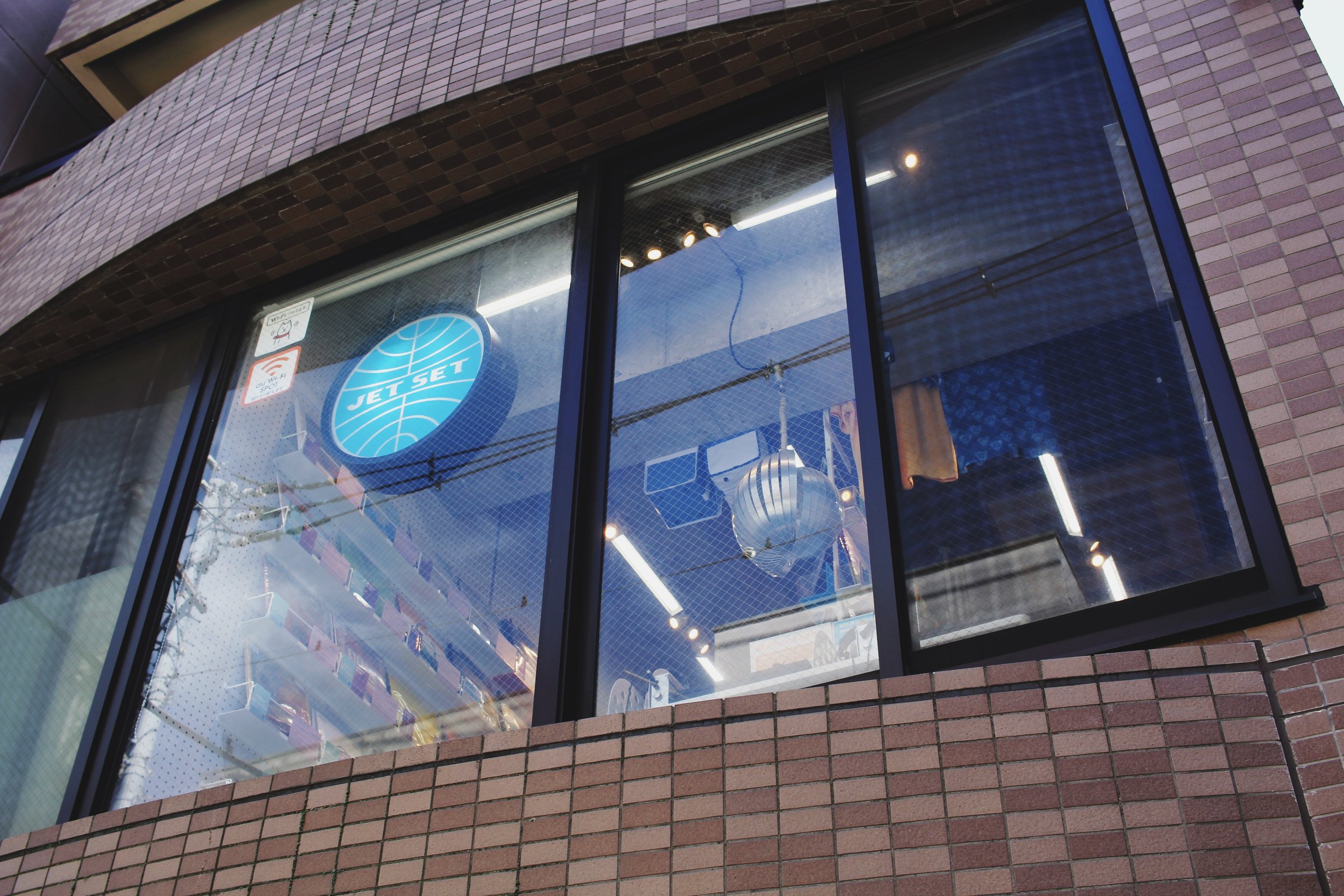 I turned up in the lovely neighborhood of Shimokitazawa way too early, quickly learning that record stores in Japan don't open until about 1-2pm. But if it wasn't for trying to find Jet Set that early (I walked past it twice) I wouldn't have spent all morning exploring and walking around the lovely neighborhood.
Jet Set features mostly new music, curated from popular western labels and new Pop from Japan. Apparently the Jet Set store in Kyoto is much bigger and has a more extensive selection as a home base.
Average cost: $$
Specialty: Pop, Hip-hop, Rock, Japanese artists and new releases.
https://www.jetsetrecords.net/
Jazzy Sport (Shimokitazawa, Tokyo)
Half store, half record label (and Yoga studio by the looks of things), this is a small outlet with more of a merch selection than records, with that island above, the center piece for the store.
I didn't find any vinyl of interest as it seemed more hip-hop and jazz focused, but I did have fun not fitting into some XL Japan size t-shirts. I have no doubt the selection here however is good given the collective behind the store apparently run some of Tokyo's best parties.
Average cost: $$$
Specialty: Hip-hop, Jazz.
http://www.jazzysport.com/
Be-In Records (Koenji, Tokyo)
I stumbled across this shop by accident whilst exploring the Koenji neighborhood, spotting the sandwich board as I stumbled down a mall of vintage clothing stores.
If you're a fan of the Beatles or the Rolling Stones, welcome to heaven. They have entire sections devoted to individual band members, and many expensive first pressings adorn the walls priced $700+. I have no idea what I'm looking at when it comes to pop music, but the sheer organization and scale of the obsessiveness was enough to keep me peering through the crates for a good hour. The guy behind the counter obsessively scrubbed and cleaned records behind his mask the entire time I was there. This is serious collector business.
Average cost: $$$$$
Specialty: The Beatles, The Rolling Stones and anything to do with either of them.
City Country City, (Shimokitazawa, Tokyo)
The very first shop I visited on my visit this time around, known to the locals as 'CCC'. After sitting at a coffee shop waiting for it to open, I was first through the doors, as the blankets were slowly lifted off the shelves on a hot Tokyo morning.
Most people seem to come for the amazing pasta that's cooked freshly in a small kitchen, and local coffee whilst soft folk, ambient or jazz music plays in the background. An old piano sits in the corner and a member of staff cleans the records ready for sale, as the smell of freshly cooked garlic mixes with the dusty scent of used vinyl.
I picked up my biggest haul from CCC, including some classic Detroit house and techno, but it was probably the inviting environment that kept me going, urging me to find more. not only that, but I was able to have a beer, eat good food, and meet up with friends after a couple of hours in the crates, without even leaving the building.
Average cost: $$
Specialty: House, Jazz, Folk, Experimental.
http://city-country-city.com/about-en/
Bonus! Disk Union (various locations)
You can't mention record shops without mentioning Disc Union. Whilst it may seem like the commercial equivalent of a megastore, its second-hand selection is second-to-none. If you're looking for essentials from any genre, or classic albums from your favorite artists, this is your spot. I found a first pressing of BOC's Hi-Scores 12" amongst many other things. I made the mistake of going here last, and went way over budget as a result. You can't walk out of here empty handed.
Average cost: $$
Specialty: Everything (even ASIP releases!)
http://diskunion.net/
My full Tokyo record store hit-list (July 2018)
Technique (Shibuya) [listed above]

Disk Union (Shibuya, Shimo and Shinjuku) [listed above]

Face Records (Shibuya) [listed above]

Next Records (Shibuya) [listed above]

Lighthouse Records (Shibuya) [listed above]

Hi-Fi (Shibuya) [Visited, but only old classic jazz - pictured above)

Guhroovy (Shibuya) [PERMANENTLY CLOSED]

El Sur Records (Shibuya)

Tower Records (Shibuya) [Visited, but mainly CDs + pop/chart music]

Recofan (Shibuya)

Dessinee (Shibuya)

Manhattan Records (Shibuya) [Visited, but mainly rap, hip-hop, RnB]

Big Love (Harajuku) [listed above]

City Country City (Shimokitazawa) [listed above]

Disc Shop Zero (Shimokitazawa) [listed above]

Jazzy Sport (Shimokitazawa) [listed above]

Flash Disk Ranch (Shimokitazawa)

Jet Set ((Shimokitazawa & Kyoto) [listed above]

Coconuts Disk (Various locations)

Be-In Records (Koenji) [listed above]

Ella Records (Nishihara)

Meditations (Kyoto) [Comes highly recommended, but no time this time around]

Neds (Shinjuku) [Comes highly recommended, only open 7-9pm, but missed out this time - see you soon Tokyo!)
Interested in what records I purchased? See the Discogs list here. Overall, I didn't get any special Japanese editions or extreme rarities, but that's not my style anyway. Interestingly, I did the math based on the lowest selling price on Discogs right now, and it worked out I probably overspent by around $150. However, that doesn't take in consideration the condition of the records for sale (all mine were 'A/B / excellent) nor does it take into account any postage prices if you bought through Discogs. And most of all, it doesn't take into consideration the very action of spending time in a record store, searching through the crates and finding a record you've wanted for ages - that's priceless!
What did I miss? What were your favorites? Let me know in the comments below so I know for next time. Just off to start my life savings again...
Also, listen to our latest Portal's feature 'Stories from Tokyo' which includes some of the many field recordings from this trip in one mix alongside some awesome Japanese ambient music.